Dependent parking lift solution
Double the parking space indoors or outdoors.
The Dependent Parking Lift is the perfect solution for increasing parking space wherever you need it. It is the perfect solution for private car parks, guarded public car parks, airport or hotel parking spaces, or development projects. Our parking lift is resistant to all weather conditions.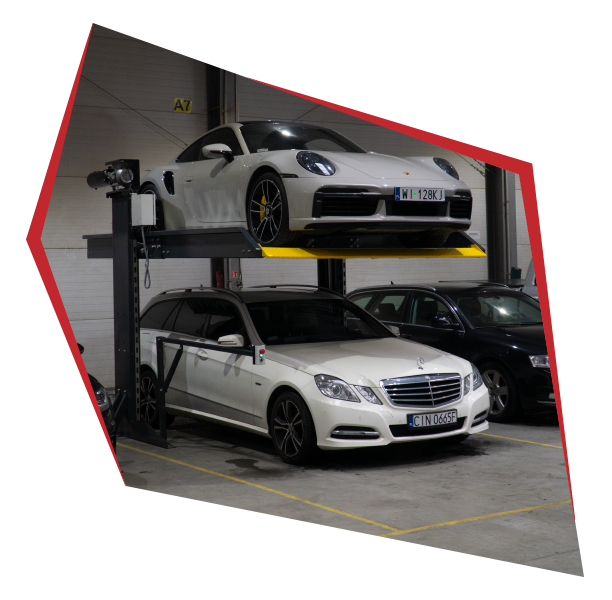 Stability and security of operation.
The stability of the entire platform is ensured by being properly balanced and fixed to the ground. We have fitted a hydraulic pump that raises and lowers the car at a safe and unobtrusive rate. Any person with a driving license who undergoes simple training is able to use the parking lift without any problems.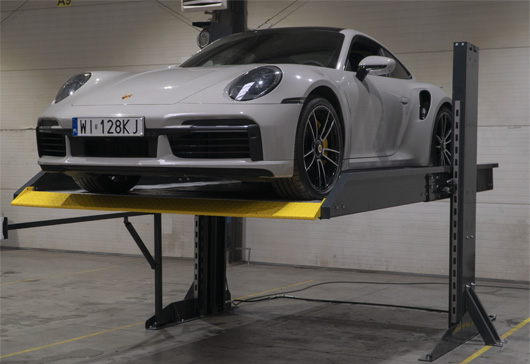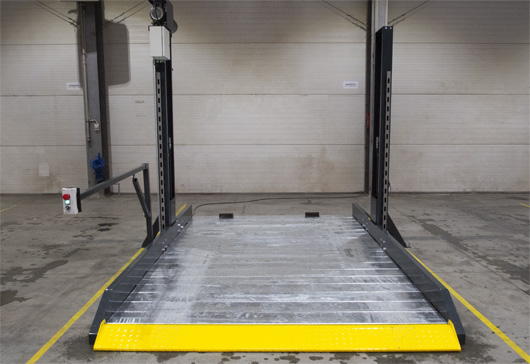 Adapted to different conditions
Thanks to its reasonable price and its adaptability to weather conditions, the car lift can be used in many different ways. You can install it outdoors or indoors. Examples of applications range from private properties, hotel car parks, company car parks, and estate car parks to outdoor car parks at airports or housing estates.
Space in and near cities is becoming more expensive. Increasingly the use of a parking lift is becoming one of the more cost-effective solutions for existing buildings or new development projects.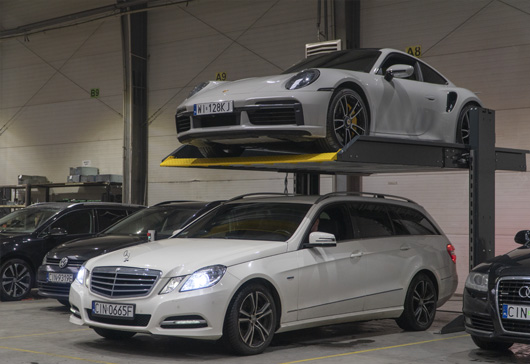 See how the parking lift works.
Especially for you, we have prepared a video showing how
quick and easy to park your car in a lift-generated parking space.
Parking lift technical specification.
Basic technical data
Parking lift type
Dependent – access to the upper platform is dependent on the lower parking space.
Structure dimensions
width 2874 mm / height 2786 mm / length 4033 mm
Maximum vehicle dimensions up
width 2300 mm / height 2200 mm / length 5300 mm
Maximum vehicle weight – 2500 kg
Maximum dimensions of the vehicle down
width 2300 mm / height 1800 mm
Power
230V 2.2kW
Waterproof
Prepared to work in all weather conditions (IP65 protection class).
Controls
With a key under constant control of the user (requires simple training).
Standards
CE and made according to PN-EN 14010+A1)
Installation
By us or by you (we provide assembly instructions).
Guarantee
2 years + lifetime technical support
Dependent parking lift on technical drawing.
Dependend parking lift in use
2-year warranty and lifetime technical support.
Our warranty covers the entire structure, from the hydraulic motor to the electrical system to all the components of the parking platform. Our service team will do everything possible to ensure that our product never lets you down. Our priority is to ensure the reliability of your parking platform.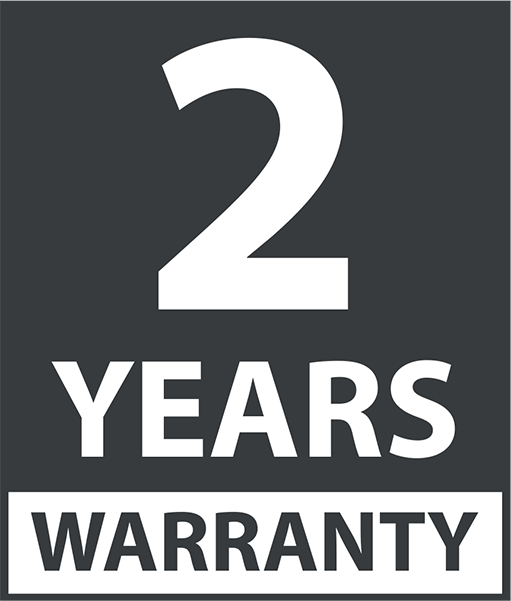 Designed and manufactured in Poland.
The entire design and production process is carried out at our headquarters in Inowrocław. We use high-quality components. We have constant TÜV supervision of our production.
Contact us and get a free quote!
Do you have questions about the independent parking platform? Or are you interested and want to know more details? Write or call us.